State Champion is the New Team Captain: Meet Sasha Kilgour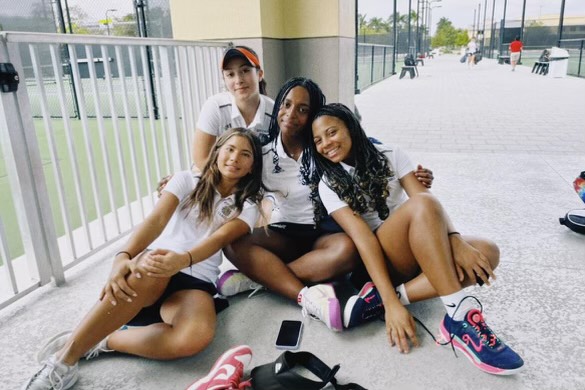 Some athletes are born with natural talents. Although we recognize how amazing they play, we sometimes ignore their journey. This includes the countless hours devoted to playing and the crazy amount of pressure placed on them. Thought of as a child prodigy and role model for young girls, Sasha Kilgour is one of these athletes. But how did she get there?
"I was excited to see all the wonderful opportunities aligning themselves in front of me, but I wished that there was less pressure being placed on me."
In her middle school years, her school schedule consisted solely of core classes: English, Math, Science, and History. Kilgour would arrive at school for 2nd period and leave after 6th. When she wasn't in school, she was in morning and afternoon practices. Her weekends were spent training and competing, excluding her from most social gatherings. Her tournaments were located all over the world, the furthest being in France. Tournaments like this lasted several weeks, so she was forced to miss school for long periods of time. It also took up most of her summer. While this experience can be described as mentally draining, Kilgour said "I was excited to see all the wonderful opportunities aligning themselves in front of me, but I wished that there was less pressure being placed on me."
In eighth grade, her schedule became even more strict, as she would arrive to school for periods 1-4 and leave before lunch. It quickly became too much for her to handle. The schedule was not only extremely demanding but, in a way, made her feel isolated from other students her age. By the end of the 2022 school year, she had decided to take a step back and stop playing tennis competitively. However, she was soon offered a scholarship to IMG academy, the world's leading sports education brand. She therefore had to continue playing and move to Bradenton to be closer to school, which offered tennis training but not academics (as a result, she was homeschooled). "I was really excited to see that people of importance were recognizing me, but a little disappointed that it happened right after I had decided to stop playing as much."
Something fell through and she ended up returning to Riviera for high school. She now takes part in a full 8-period schedule and officially quit playing tennis competitively. While she still plays for almost 4 hours a day to continue leading the Riviera Tennis Team to victory, she has a lot more time to do things not related to tennis. She can hang out with her friends on the weekends, make plans after school, and even participate in simple things like spending the night at a friend's house.
She has loved the new changes. "I get to experience what I missed in middle school while still taking part in my sport. I have been able to get closer to my friends and family and I also don't have as much pressure to be the best all the time," Kilgour said.
"Sasha took on the unprecedented responsibility of being the top player on our Girl's Varsity Team when she was just in 6th grade and has held the top spot since. Most people forget how young she still is because of how talented and poised she competes on the tennis court. Each year she has accomplished even more for the team. From being a first team all-Dade player as a seventh grader and leading us to our first regional championship that year to state champion in doubles," Coach Elman said.
"Part of me is a little excited to get back out in the competitive tennis world for a while." 
Just last year, as an eighth grader, she and her tennis partner Milagros Lardiez (also known as Millie) managed to win states in the doubles category. As the team was undergoing a heartbreaking loss, Kilgour and Lardiez stepped up and won, awarding the school a state title.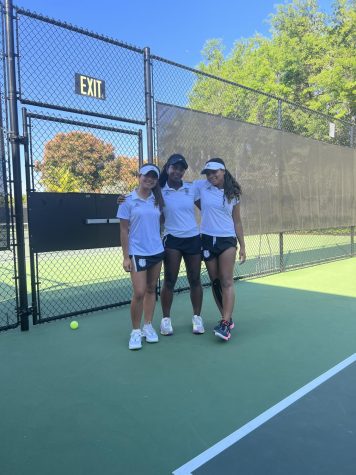 Since 6th grade, Kilgour has possessed the status of number 1 on the team and is now the captain. With that comes certain responsibilities like taking part in competitive tournaments. Therefore, she is starting to slowly get back into competitive tennis, but only while the school season is in progress. "Part of me is a little excited to get back out in the competitive tennis world for a while."
We have no doubt she is going to lead the Riviera tennis program to many victories and amazing seasons. Currently, the girls varsity tennis team is ranked number 3 in the state and has won all 8 school matches. "Our team is probably the youngest girl's team in Dade-County and one of the top three squads in the state for sure. This is evidenced by the fact that we beat four time consecutive state champion Doral earlier this season. Even more importantly than their on-court play, the girls are extremely tight knit, and play with great passion and fairness. The sky's the limit for our top six, the Kilgour sisters, Maria De La O, Isabella Paradisi, Miranda Blanco and Emma Grasbaugh," said Coach Elman.
While she has been through a long journey, she is still one of Riviera's star athletes and deserves to be recognized for her multitude of efforts.
Leave a Comment
Donate to The Riviera Press
Your donation will support the student journalists of Riviera Preparatory School. Your contribution will allow us to purchase equipment and cover our annual website hosting costs.