Beyoncé has been one of the most influential and successful artists in the world since the late 90s. While on tour for her newest album, Beyoncé came down to Miami to perform new and old hits alike. She performed many popular songs like "I Care," "CUFF IT," and "Formation." On July 29, 2022, Beyoncé released her seventh studio album, RENAISSANCE, a genre-bending album with a variety of different inspirations; 1970's disco, Jamaican dancehall, Louisiana bounce, and New York house music. The RENAISSANCE tour kicked off in Stockholm, Sweden this May and will end on September 27, in New Orleans, Louisiana.
Before this tour, Beyoncé had gone almost silent on social media, with no updates on music videos and a minimal amount of promotion of the album itself. At the time of the release of the album, people speculated if she would go on tour again after almost 3 years of not performing publicly. When the tickets were announced, her fans, the Beyhive, rushed to Ticketmaster to try to get seats for the Diva's return to the show business. Due to popular demand, tickets sold fast and many lifetime fans of Beyoncé were able to get to see her live in person.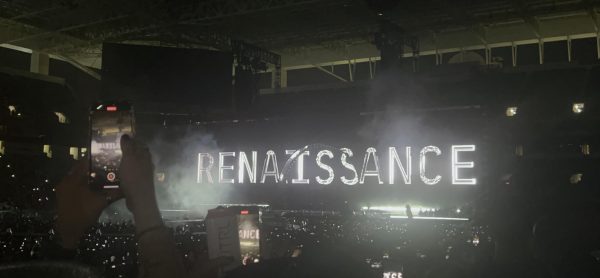 At her performance at the Hard Rock Stadium, Beyoncé opened up with her power ballad, "Dangerously In Love," which electrified the crowd. She performed some of her classics before transitioning into RENAISSANCE. As a public figure, Beyoncé's children have since gained fame through the success of their mother, particularly her eldest daughter, Blue Ivy Carter. For the entirety of the tour, Blue Ivy dances alongside her mother and the background dancers for two songs, "My Power" and "Black Parade." At just 11 years old she's captivating audiences on stage before thousands.
Beyoncé enjoys interacting with her crowd, expressing her gratitude before the show, laughing and joking with some audience members, and starting challenges. For her song, "ENERGY," she has a line where she says "Look around everybody on mute." where she pauses the music an extra few seconds. She does this to see which crowd can actually stay on mute and rewards them with a few surprise songs at the end. Although Miami did not win the mute challenge, Atlanta did, and they were rewarded with three songs not on the usual setlist, "ALL UP IN YOUR MIND," "THIQUE," and "Drunk In Love." During a private performance at the opening of a new hotel in Dubai, Atlantis the Royal, Beyoncé sang an altered version of "Drunk In Love." She has only performed this version for two shows out of the 56 she has done so far, in Stockholm and her second night in Atlanta.
The enigmatic legend has come back and shown us that she still has that phenomenal voice that made the public fall in love with her. Beyoncé is known for her incredible voice, especially during live performances. Often, her live renditions surpass even the studio recordings. Even after all her years in the business, she has proven on this tour that her voice and talent are here to stay.