The Golden Globes 2023: Best and Worst Dressed
Starting off the Hollywood award show season, the Golden Globes highlighted more than just cinematic excellence. The red carpet showcased film and television stars dressed by some of fashion's most iconic designers. From Valentino to Oscar de la Renta, here are five (plus one extra) of our top picks for best and worst dressed at this year's Golden Globes.
Top 6 Best Dressed:
1. Michelle Yeoh in Armani Privé and Moussaieff Jewelry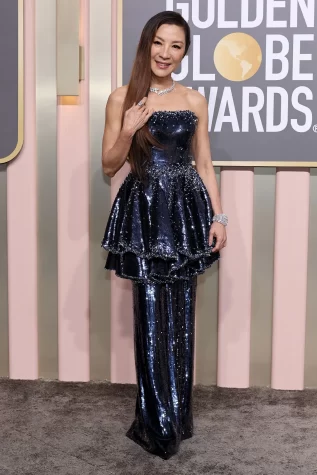 Yeoh sparkled in sequins- a risky choice she nevertheless proved elegant and timeless. She added more shine to the look with Moussaieff's diamond jewelry. To balance out the glimmer, she wore simple, sleek hair and makeup. 
2. Jenna Ortega in Gucci and Tiffany & Co. Jewelry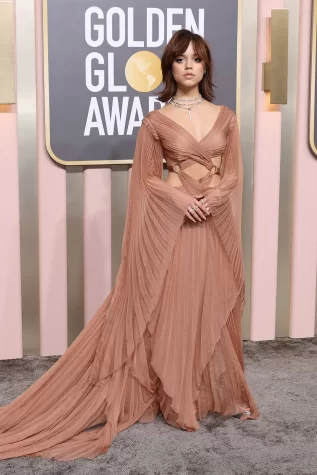 Ortega made nothing short of a statement with her floaty, pleated nude gown. The detailed cut-outs and long train and sleeves make this outfit one of our favorites. Playing back into her recent "gothic" style (Wednesday), her Tiffany & Co. necklace trio offered a cool detail to the look. 
3. Lily James in custom Atelier Versace
James took her style in a bold direction with this look. The dramatic skirt and criss-cross cut out— not to mention the square, corset-style neckline— made the Cinderella star a vision in red. Adding sophistication, James wore a diamond choker and dangling earrings. 
4. Hannah Einbinder in Carolina Herrera and Tiffany & Co. jewelry
Einbinder was classy as can be in her 60s-inspired Carolina Herrera maxi gown. The satiny black fabric of the dress, coupled with the pointy black stilettos and twinkle of the jewelry, called for a glamorous red carpet look. Her short, bouncy haircut and simple makeup completed the polished vibe.
5. Tyler James Williams in Amiri
Breaking the prevalent black suit trend, James perfectly paired vintage with modern in his nautical blue tie-dye suit. The flowy pleated pants offered just the right amount of oversized to the look, and the cropped blazer and clean, white button-down underneath added a contemporary element. 
6. Letitia Wright in Prada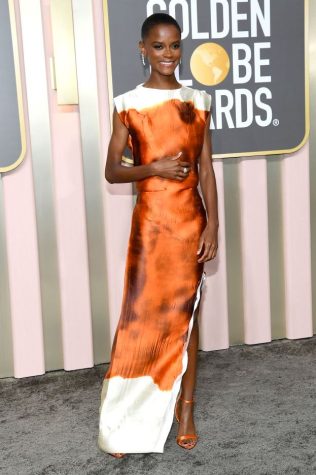 Nothing new for her, Wright made this minimalistic orange-and-white Prada gown seem like art on the red carpet. The subtle slit revealed orange, heeled sandals that matched the deep orange color of the silky dress. For added glamour, she wore statement diamond earrings and a ring. 
Top 5 Worst Dressed:
1. Sarah Polley in Valentino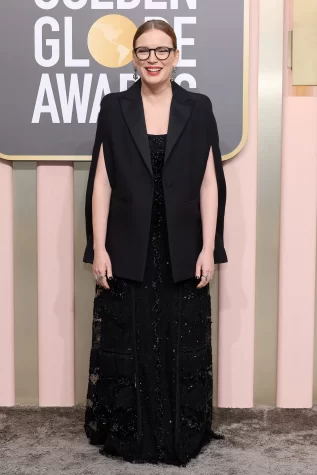 Although we think she looks good in black, Polley's look seems rather incoherent. The sleeveless blazer is a bit too long and doesn't seem to flow with the long glittery gown. We do, however, appreciate her red lipstick and glasses.
2. Megan Stalter in vintage Gianni Versace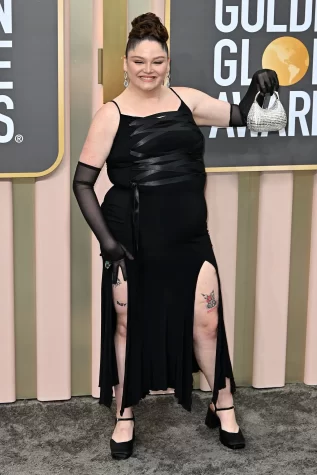 We see the retro, '60s movie star' vibe she was going for, but the criss-cross ribbon detail on the front of the dress and the sheer black gloves seem a bit low-quality. We also think the block heels cut off at an awkward length, making her look shorter than usual. Nonetheless, we love her slicked-back bun and chic makeup look. 
3. Claire Danes in Giambattista Valli haute couture
Overall, we think this dress just doesn't complement Danes at all. The glittery straps, pink bow, and frilled bottom create a lamp-like look that isn't flattering. However, the flower applique on the dress adds a whimsical component that could have been used to create a more sophisticated piece. 
4. Natasha Lyonne in Givenchy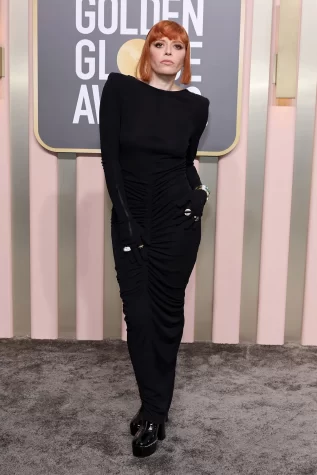 Lyonne's fitted, floor-length dress, together with the patent black boots doesn't seem to match in our opinion. The exaggerated shoulder pads and gloved sleeves give the impression that she has little room to breathe, and the half-up-half-down hairstyle and dark eye makeup don't help soften the look.
5. Seth Rogen in Dior Men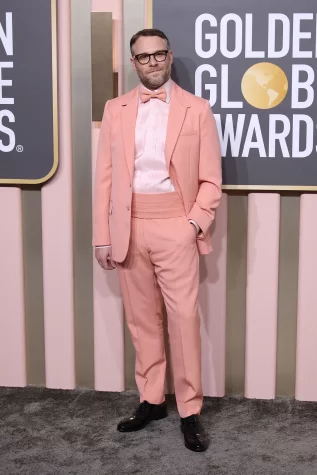 Though we appreciate Rogen's attempt at breaking the black-suit mold, we just don't think his suit makes the cut. The four bands on his waist add a seemingly unnecessary detail that isn't coherent with the length of the blazer or the ribbed button-down shirt underneath. Moreover, the coral color of the suit doesn't favor his skin tone.