America's Favorite Cookies
You may have noticed colorful boxes passing hands in the hallways or intriguing stands outside stores. Inside these boxes are a delicious snack favored nationwide: Girl Scout Cookies. Juliette "Daisy" Gordon Low started the Girl Scouts in Savannah, Georgia, in 1912. Daisy and eighteen of her friends formed the first-ever troop. Girl Scouts have been a trailblazer in American history by championing women's rights, serving in World War II, humanitarian relief, pushing for environmental help, and creating future leaders. Troops use 22% of cookie sales for troop proceeds and girl rewards, 24% for the Girl Scout Cookie Program and baker costs, and 54% for the program, properties, volunteer support and training, financial assistance, counseling, and passion projects.
Thin Mints
Thin Mints are rich, dark chocolate cookies that stand out for their refreshing mint flavor. They are perfectly paired with a glass of milk. According to Google Trends, Thin Mints are the most searched Girl Scout cookie ever. Our own Girl Scout, Zaina Abusad, a freshman who has been a girl scout since kindergarten, says that Thin Mints are the most popular flavor she sells. This cookie is a favorite of counselor Mary Carballo, who describes Thin Mints as "absolutely delicious."
Samoas
Samoas are a classic option that balances coconut, chocolate, and caramel with a cookie crust. They were added to the Girl Scout cookie roster in the 1970s. The cookies are named after the island of Samoa since the goal of the dessert is to get you into a mindset of relaxation and comfort. Furthermore, a key ingredient in the cookie is coconut, the top export of the island.
Adventurefuls
Adventurefuls are addictive brownie-themed cookies with a caramel-flavored center and a touch of sea salt. Sixth grader Ella Arrubla says that if she were stranded on a deserted island, she would bring a box of Adventurefuls.
Tagalongs
Tagalongs are crumbly vanilla cookies layered with peanut butter and a chocolate covering. Depending on your state, Tagalongs are also called Peanut Butter Patties. Girl Scout Cookies are so good that even celebrities such as Reese Witherspoon, Jason Momoa, Tom Hanks, and Amanda Seyfried enjoy them.
Trefoils
Trefoils are reimagined shortbread cookies made in the shape of the Girl Scout logo. In July 1922, a scout leader named Florence E. Neil published a shortbread cookie recipe that evolved into the present-day Trefoils. They are simple and always tasty!
In the end, whichever cookie you decide to snack on is a great option and the money goes to a great cause.
Which Girl Scout Cookie Is Your Favorite?
Sorry, there was an error loading this poll.
Leave a Comment
Donate to The Riviera Press
Your donation will support the student journalists of Riviera Preparatory School. Your contribution will allow us to purchase equipment and cover our annual website hosting costs.
About the Writer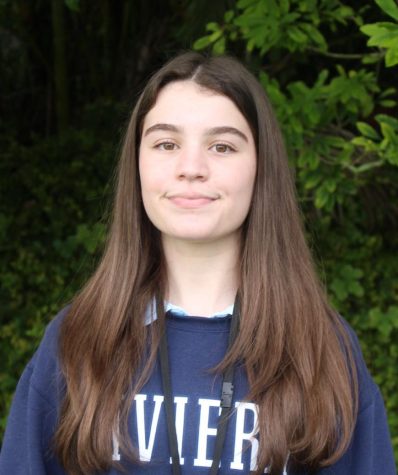 Sofia Bordas, Marketing Editor
Sofia Bordas is a freshman and the Marketing Manager of The Riviera Press. In her free time, Sofia plays volleyball and volunteers at "Care Closet",...