On August 21st, 2023, the Class of '24 entered Riviera at 8:00 a.m. sharp with all the excitement of senior year. With that, they carried princesses, superheroes, and majestic creatures reminiscing their past years of school on their backpacks, while proudly wearing their personalized crowns decorated with glitter, pom-poms, jewels, and fun letters to show that they run the school.
The Class of '24 received their crowns from the graduating class of 2023 to pass on the power and responsibility that comes with being a senior and leading the school as the oldest students.
Each senior designed a crown that was custom to their personality, we asked them what theme they were going for when creating theirs. "My favorite animals are corgis and capybaras so I felt the need to put them on my senior crown because they accurately represent who I am. I decorated it with a bunch of stickers because I bought them and never used them and also they are really cute." Said Alexander Serrano. The seniors chose specific themes to reflect who they were as a person and Riviera bulldog. Ariana Agurrie told us, "The crown represents me because it is bright, colorful, and happy which is how I would describe my personality."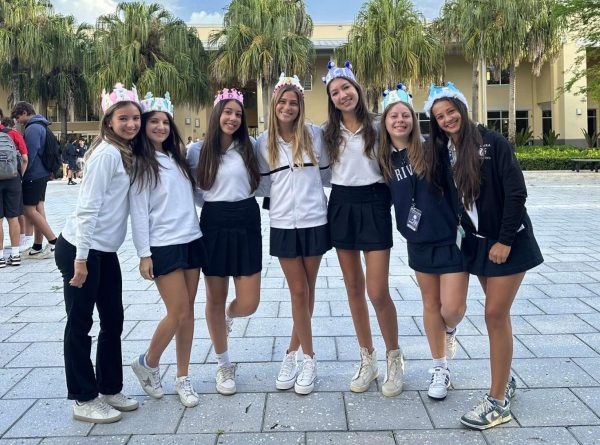 Many students of the senior class came up with numerous ideas about why the crowns are a tradition. "I think it's to show our pride as the oldest students in school and as cliché as it sounds it cements our position as "kings of school," said Alexander Serrano. "I think we wear senior crowns to show that seniors run the school and we are the oldest," said Audrey Pena.
In addition to the crowns, senior class students around the nation participate in the trend of purchasing children's backpacks.  The tradition allows students to look back and remember the days when they were just little kids in kindergarten and pre-school. Through these backpacks, students are able to make a connection between their younger and older selves by buying backpacks with the characters that represent them best. "My backpack relates to my childhood because I played with Barbies all throughout my childhood, and I also loved anything from the Barbie movie franchise," said Patricia Ricci.
Even though the first week of school was overwhelming and chaotic, the students of the Class of 2024 found joy and happiness in soaking in their last first days of high school.