There is an unmistakable energy in the air, a blend of anticipation and pride. Riviera's varsity swimmers, on the brink of their third straight state appearance, weren't just swimming for personal glory – they were swimming for the dedicated fans cheering them on. These athletes don't just work on getting their strokes right; they also do a ton of cardio and strength workouts to get faster and last longer in the water. Juggling this intense training with other school activities, it's clear these student-athletes are super dedicated to being the best in swimming.
During their first meet at Gulliver, swimmers showed true camaraderie by supporting their teammates from the sidelines. "My favorite part of the team is the support everyone gives each other during swim meets," said junior Isabel O'Naghten. This environment especially helps the incoming freshmen who see themselves as part of one cohesive unit. "It's my first year doing swim, and with everyone's support and enthusiasm, I feel very welcomed," said freshman Laila Kraishan.
In the pool, swimmers aim high, each with distinct objectives. For some, it's about refining technique and speed. Sophomore Jacob Raymat, said, "The goal for the season is to just become better and get faster times." Kraishan echoed a similar sentiment, "My personal goal is to improve on every stroke and work on my dives." Meanwhile, for seasoned athletes like senior Jared Safren, there's a blend of fitness and competition. He said, "A personal goal for me is to get down to 165 pounds and swim really hard to win some races. It's my last year here, and I've got to make the most out of it."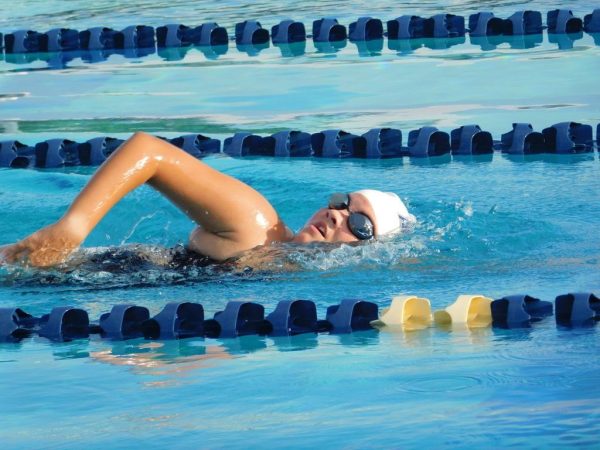 Despite many dreams and aspirations, swimmers must push themselves through the grueling practices of swimming. "The sport requires a lot of endurance. It's mostly cardio, so already you just keep up, or you have to play catch up most of the time," said Safren.
Concurrently, swimmers have the daunting task of mastering challenging swim patterns to the best of their abilities. For example, O'Naghten practices for the 100m breaststroke and 500m freestyle races. Other swimmers, such as Raymat, practice relays of varying lengths, such as the 50/50 freestyle relay. From daily cardio and endurance to mastering countless stroke patterns, swimmers dedicate themselves to challenging practice in the sun-soaked heat to perform at their best.
As of October 9th, our swim team has beaten La Salle, Westminster Christian, Ransom Everglades, Carrollton, and Miami Country Day in their most recent meets. Seniors were recognized for their achievements at their last home meet last Thursday and we wish them all the best in the future. Stay tuned for season highlights and final scores.