Business Program with Mr. Dinter Prepares Students for the Future
For the past three years, Riviera's Business Program has provided students with the tools necessary to achieve success. The business course implements a hands-on learning curriculum, such as re-enactments of real-life scenarios, training in critical thinking exercises, and fostering team-building skills. After changing careers, Mr. Dinter started a business class at Riviera to prepare students to tackle any job of their choice. "I changed careers, and I decided to make a change and talk with Mr. Cohen. He wanted to build out a brand new business program, and when I talked with him about it, he asked me; 'Well, do you want to build one?'" said Dinter.
As for the students, the Business Program has quickly become a favorite. "I would say it's probably the most hands-on class in the school," said Joseph Andari (12). From team building to role-playing, students never know what to expect when they walk into class. One activity that facilitates team building is called "Coffee Shop". Students are separated into teams and given a set of cards displaying different sizes, flavors, and temperatures. Dinter serves as the customer and places orders the teams must fill as quickly as possible by putting the corresponding cards on his desk. Activities like these prepare students to work in customer service by teaching them how to work efficiently under the pressure of impatient customers.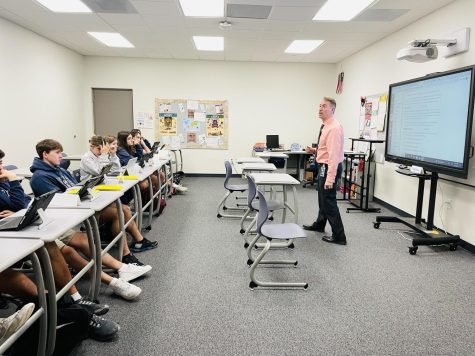 In addition, Dinter implements a weekly presentation dubbed "Tech Fridays," a day in which students must present and work towards selling any technological product of their choice to the class. Selected students submit a marketing plan proposal with the hopes of selling their goods. Afterward, students ask the presenter questions he/she must be ready to answer. Presenters must dress in business attire to enhance the quality of their presentations and emulate the feeling of professionalism in the workforce. When asked if they enjoyed this exercise, the class answered in unison, "Yes!"
The Business Program aids students in their development as young professionals, as they are exposed to a corporate atmosphere. "It's a lot like an actual business office… Mr. Dinter does take it seriously… he uses business terms," said Kiran Evensky (12). In the long run, students involved in the business course will have an advantage in the workforce as they decide to develop the skills beneficial to their future.