Girls' Varsity Basketball Welcomes New Coaches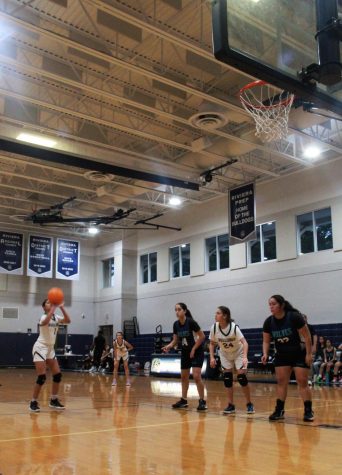 This past Thursday, the Riviera girl's varsity basketball team had a tremendous 57-31 win over Mater Academy.  The girls dominated from start to finish, led by Senior Melina Pena's 17 points and Cristina Mascarua's school-record 30 points. After going 0-13 a year ago, the girls were determined to set their first win. 
Three new coaches were hired to help the girls accomplish the first goal. Jonathan Brand is the head coach, and Jeremiah Tuff and Joe Brand are the assistant coaches. Although this is his first girls' team, Brand has plenty of experience coaching. He served as a volunteer coach at the YMCA and as the head coach of the boys' junior varsity basketball team at Miami Southridge Senior High School, and he is currently the CEO of a program called MJ Hoops. Coach Brand thinks it is vital for every girl to grow as a player before having a good team.
"I plan to give the girls a successful season by making sure that the ladies get better and develop as basketball players," said Brand.
In practice, Brand is returning to the basics and teaching the girls key fundamentals like form shooting, dribbling, and defense. He is also implementing conditioning to ensure they're in proper shape for the games. 
"We have lost a few good players because our new coach is doubling down on the conditioning," said Isabella Camacho.
Another teammate feels the same way.
"He pushes us to the point where we're all tired, like breathing heavy, hands on our knees," said Melina Pena.
Although last year's season did not earn the team any wins, the girls are confident this year will be better. Due to Coach Brand's challenging practices, the girls are gaining confidence, and the winning result of the last game confirms the plan is working.