Top 5 Study Spots at the Riv
Around 650 middle and high school students go to Riviera Preparatory School. Inevitably, it can get loud outside of the classroom. Students who want to be as productive as possible have set aside a few places to study and relax. And among these spots, there is a clear hierarchy.
1. The Library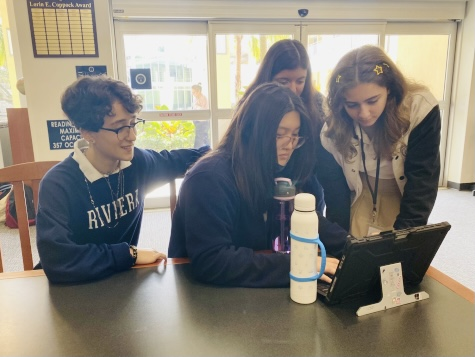 Tables with charging ports
Fun games to play
A relaxed atmosphere
The library is the most popular study spot among students. It is full of enjoyable spaces to work at: tables are equipped with charging stations, computer desks are located in the back for quiet review, and gray couches are positioned in the corners to make for a comfy place to study. Apart from just studying, students can entertain themselves by playing chess, chatting with their peers, or reading Ms. Medina's daily news slides. Senior Nicolas Perez says the library has "a more relaxed atmosphere than classrooms," making it an excellent place to study and converse with friends.
2. The Cube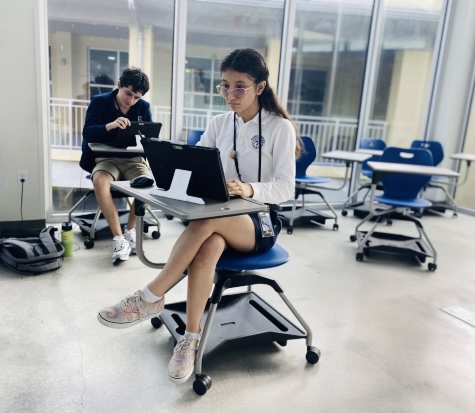 Natural sunlight
Rolling chairs
Glass walls
The Cube, a new addition to the Riv completed in 2021, has quickly become a favorite study spot among Bulldogs. Students love to study here thanks to the glass walls, which allow natural light to pass through as they work. Ever since the block schedule was reinstated at Riviera, students have spent much longer in classes with artificial lights. Junior Valentina Gomez says, "My favorite part about the Cube is actually the natural lighting. I think because artificial lighting after a long time. . . is really straining on the eyes, so the natural light really helps me focus." 
The building has four classrooms, with the north side containing large conference-style tables with seating all around and the south side housing more traditional-style seating with rolling desks. Both styles allow students to collaborate and participate in Socratic discussions.
3. T
he Tree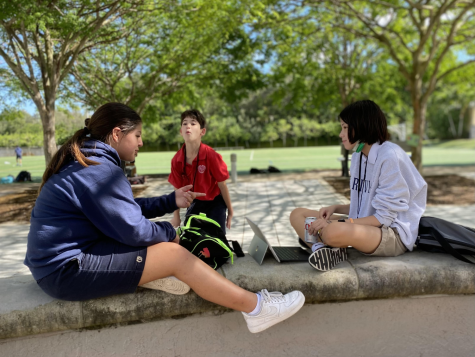 Quiet
Around nature
Uncrowded
For students who want a break from the indoors, the tree, located at the heart of the interior courtyard, is the perfect place to be. The area surrounding the tree contains tables so students can sit and work together. Even our new sixth graders agree that the tree is one of the best places to study. Sixth grader Kaytlee Herrera says, "I think it's very peaceful just to sit in the circle because there's barely any people here. No people to distract you." This study space allows students to be at ease in nature while working productively.
4. The Field
A lot of space

Left to Right: Jenna Abusad, Sarah Acra, Shibaani Mishra; Photographer: Zaina Abusad

Allows for louder voices
Gives students the opportunity to socialize
Students love gathering at the field with their friends, especially during lunch. Some prefer to wait before entering the cafetorium, like junior Shibaani Mishra. "I like to sit there at the beginning of lunch while we wait for the line to die down," she says. The field allows students to be more social while studying because it can accommodate groups of friends. Outdoor spaces can be louder than indoor spots, enabling students to group together and have a good time.
5 . The Counselors' Offices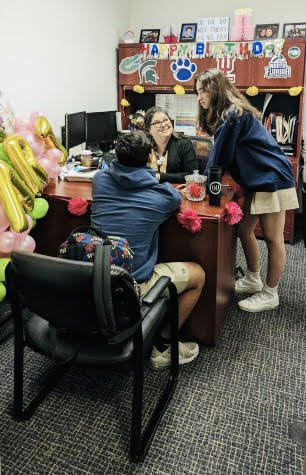 Motivating to work at
Peaceful
Counselors are super supportive
Lastly, the counselors' offices are a great place to study if students need extra motivation or a quiet space to work during lunch or break. Senior Candela Jimenez Lopez says, "I go to my counselor's office to study because it is calm, and the counselors are always there to motivate me." The counselors are here for their students and are happy to give them a space to work if needed.